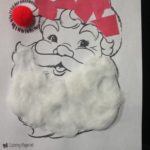 Welcome 2018! Like every other year we will have lots of Fun together. In December we talked about winter season in our group circle time. We are still working on pre-writing skill. We are really happy with their progress on pre- writing skills. We will soon start writing alphabets.
We did many craft works which helped our kids to improve the fine motor skills. We are very happy with our kids coloring skills at this point. They learned how to color inside the line which is really impressive. We will start working on tracing alphabet
We had nice time with Santa in our Christmas party.