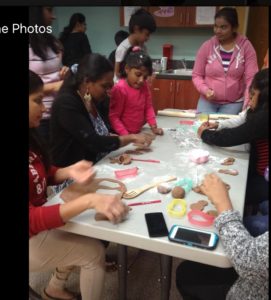 December was a fun filled month for all of us. We had a grand Christmas party at our school. Kids were very excited to get gifts from Santa. We are still working with the numbers. They are doing really good on counting the objects. We are still working on writing alphabets. We read some story books based on winter season. In the story time , they learned how we can keep ourselves warm during winter.
We are worked with alphabet M,N,O in this month. We learned some new words starting with alphabet M,N,O. From January we will start working on Phonics.
We did take part in Christmas ornaments making for the kids at UNC Hospital. Thanks to all our Angelz Funtime parents for helping us on this project. We really appreciate for you time. We will learn more with full of energy in 2018. Very Happy New Year to you all!!!!