My name is Patty and I started working with your children on January 17th. We start off by getting acquainted in our circle time every morning. We discuss the calendar, month, day, weather and move into shapes, colors and numbers using puzzles, books, and flash cards.Our goals for this month are to recognize and identify the letters A -E and the numbers 1-10.Before snack we work with legos to help with their motor skills as well as teaching them to play together and on sharing skills.We also complete two worksheets daily, one is used to teach my students the alphabet or numbers. Additionally we use tracing worksheets to trace the letter or number to start the introduction to writing. The second is a color worksheets we use to work on pencil grip as well as using color and keeping within the lines. we also do art project during the week.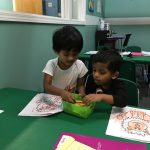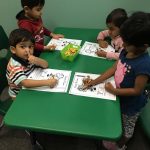 In February we will continue on this lesson plan as I have only been with your children for two weeks. We also will have several special days in February: Groundhog Day, Valentine's Day, and Presidents Day. We will have books, Worksheets and fun art projects to make those days special. Every week I will be sending folders home with your children with their weekly worksheets and a little homework. Please return the folders with your child the following week.
I am looking forward to the months ahead and watching your children grow, learn and develop.