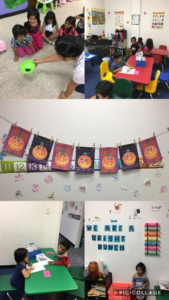 October has all but passed us by and what a busy month is was. Your children have been working very hard and making great progress. We have been working on our alphabet and numbers review and starting to put our letters together to form simple sight words. We will continue on this exercise into November. We reviewed our numbers 1-10 and now are starting on 11-20.
We will be celebrating Halloween with a party on Saturday, October 28th. Please join us for this fun event. Should be a "hollowing" good time for all.
November is just around the corner and we will be working on many art projects this month starting with 
November 10th
 Veterans Day. We will honor our veterans for their service and sacrifice for our country. On the week of 
November 23rd
 we will celebrate Thanksgiving. We will spend our circle time discussing and reading stories about this very special day.
Again my students are very excited about learning and I know they will grow, learn, and develop in the months and years to come.