Hi everyone,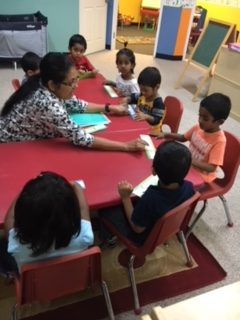 I would like to let you know  how your kids performed during these 2 months
They have been very active during circle time with singing , dancing, counting & listening to the stories read to them.
They have been learning the names of the days & most of them happily come forward to say them.
They have learned to identify the uppercase & lowercase  A, B, C , D, E,& F  along with practice to write them. They could also count from 1-10 & write some of them.
Now we are working on identifying the letters of their names.
It is really amazing to watch the progress of these tiny tots continuously.
It is a pleasure to have them in my class!
Mrs. Bernie.