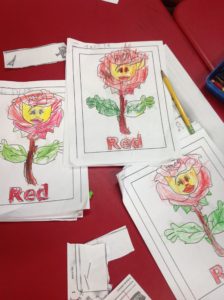 I am Bernadette Diaz , mostly known as Bernie. I joined Angelz Funtime on the 2 new January 2018. I warmly welcome your child along with you into my classroom.
As a teacher I have spent my life time among kids ,helping them to develop physically,socially ,emotionally,spiritually & academically. With great pleasure I have watched them bloom into successful bright  STARS.
# Each child is unique in its own way!
# Each child is talented & educable !
# Each child is  MY CHILD with all my LOVE !
The following is a summary of the work the children have done for the month of January.
The color of the month is WHITE with a lot of snow all around us. We have been working daily on phonic sounds through singing & dancing while exposing the children to uppercase & lowercase letters, counting & writing from 1- 20, identifying shapes & colors & introducing social workers.
We have also talked about personal cleanliness, potty training & good habits  through stories. It was fun to see their hands on cutting & pasting different  items , along with a lot of coloring.
The children have been doing great in facing these challenges happily. I am PROUD of them!