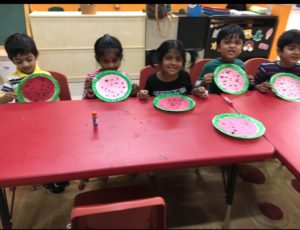 February was short  yet sweet.  The kids enjoyed sharing love & care  on each other among family & friends while celebrating Valentine's Day.
The month began with a red Rose the symbol of LOVE  followed by  story telling, singing & dancing while learning the sounds of the letters A-Z ,counting 1-20.
The month ended with a colorful watermelon on a plate. The kids are doing great!
#.   They can identify the letters of the alphabet & numbers 1-20 .
#.    They can write their names  with confidence.
#.   They love to listen to reading & browse over books.
#.    They use the magic words  PLEASE, SORRY & EXCUSE ME   in their conversations.
These kids certainly will go along way!