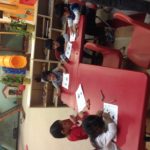 March was a great month with a lot of fun activities along with counting, reading & writing..
1– kids started off with the days of the week.
2–It was a delightful sight to watch the kids running around hunting for Easter eggs to fill their baskets.
3–As a Science project , the kids created their own binoculars &  had fun viewing tiny objects around.
Way to go MY LITTLE SCIENTISTS!!!