Hi everyone,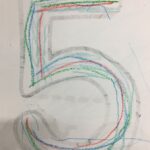 Now We have run through the month of September , the month with the most letters and announcing the end Summer.
Our Angels have been very interested in art & craft along with identifying numbers & letters . It was really amusing to hear them so loud & active.
I am proud to see our LITTLE ANGELS doing great
All the best to our Angels!