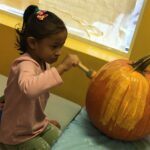 October newsletter
Happy September has passed by!
Once again the kids have spent their time with great enthusiasm.
With hands on cutting & coloring my little angels are learning colors, shapes, letters & numbers . We celebrated Halloween by coloring and decorating pumpkins. They are amazing!
It is so nice to hear them using the magic words PLEASE, THANK YOU & SORRY during activities. Hope you encourage them to use these words at home too.
All the best to my little Cherubs!