Hi everyone,
Hope all of you are safe & sound. We had celebrated our winter celebrations as much as we could. Spring brought us good hope. We enjoyed the colorful spring together and looking forwarded to brighter summer.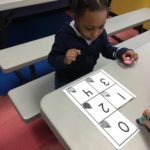 As you all know , May is the month of sunshine & rain that helps to give a vibrant environment. Similarly these Angels of 3 years have brightened up the school after the gloomy pandemic.
So now we are back to our normal routine, while following the necessary protocols to keep the kids safe & healthy.
This month we have exposed the kids to numbers, letters ,colors & shapes through fun activities such as singing, dancing & coloring.
It was a great joy watching the little ones developing their skills through all these activities.
I am proud to say that these kids certainly would be "GREAT STARS IN THE FUTURE "!