In Pre-K classroom, Angelz Funtime focuses on 4-5 letters or words as well as a math topic.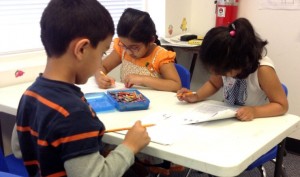 Children used a variety of methods to learn these letters/words and numbers; such as: tracing, writing, using stamps, doing art projects, etc. One week out of each month will be Science week where we will spend the entire week learning about a specific area of science (plant, animals,space, weather, etc)
In April Students focused on learning to recognize and write I, So, No, He, Do, be, At, Am, we, UP, To, My, Me, It, Is, In, Go, Yes, Was, To, Who, She, Say, Saw, Ran.
Pre-k classroom kids planted flowers so that we could watch them grow. They also learned the numbers from 5 to 20 and worked with number matching.