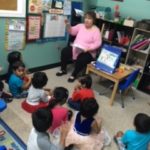 Dear Parents,
We have had a great time learning spooky songs, songs about the weather, seasons, days of the week, and songs about turkeys and months.
We have worked on learning number order and writing our numbers to ten, we have also learned alphabetical order by dot to dot and recognizing the alphabet. We are learning to raise a quiet hand in circle time. We are also writing our numbers to ten, and count to 20. We are working on our November words in circle time as well as our alphabet sounds.
Just a reminder to please go over your children's work when they bring their Friday folders home. They are proud of what they did in school for the week plus by going over their pages you can see what kind of progress they are making and where they are having trouble. When you have gone over their pages keep them at home and return the folder with their finished work.
Just a reminder we are closed Thursday and Friday for Thanksgiving . I hope everyone has a wonderful Thanksgiving holiday ..
Sincerely
Ms. Nancy