2017 October lesson plan for Intermediates 1: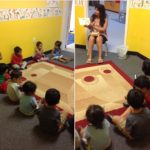 We are enjoying our fall season in our classroom. We are still working on our pre writing skill. We worked on sleeping line this month. We are working on identifying alphabets from from C to H. As usual we included some story books related to Halloween in our story time.
We talked about fall season and sone animals in our circle time. We did have some coloring sheets for dog, cat, duck etc.While coloring we focused on identifying colors too. We also talked about Columbus Day in our group circle time. We learned some shapes like Circle and rectangle and numbers till 4. We will keep learning about shapes in November too.
We hope that you all had a nice time on Halloween Night.
2017 September lesson plan for Intermediates 1:
Can not believe that Fall is here already. We will enjoy the beautiful fall color soon. We started working on counting numbers in this month and we will continue that to our next month too. While working on number 1, we counted the number of nose, head and mouth each one of us have. Same thing we did for number 2 too. They were very excited to show their two legs, two hands and two eyes.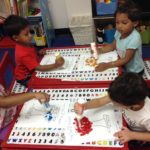 They love singing song with action. We will keep doing that everyday. In our story time we read some story books related to fall season. We were working on identifying the colors. We introduced them blue, red and orange. During our circle time, we encouraged our kids to raise their hands if they have either one of those color on their dresses or shoes. They were introduced with the alphabet flash cards to identify the alphabets.
Our sweet little kids started working on their pre-writing skills. We started with standing lines and slowly we will move forward to sleeping line.
Angelz Funtime will have Halloween party on October 28th. More details will be sent out soon.
2017 August lesson plan for Intermediates 1 :
We have had a busy month filled with coloring and crafts and songs but as August has come to a close we will begin our new school year. I have some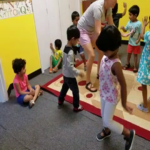 fun activities and learning opportunities for your children. I can not wait to share them with the students. We will begin using a journal. You will see them come home some Fridays and I ask that you return them on your child's first day back to school week. I hope that you enjoy seeing your child's work
May 2015, Lesson Plans Intermediates 1 >
Learn letters D, E,F and G. Also numbers 5,6,7 and 8.