Lesson plan for August 2021:
Dear Parents,
Can you believe that summer is already gone! It absolutely flew by, now if it would just take the heat with it.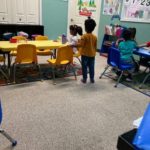 So, I hope everyone had a wonderful summer an got to reunite with some family and friends and everyone is ready to get back into the swing of school again.  My pre-k class has begun to learn our numbers and our alphabets, and how  to write our name, letters, and numbers.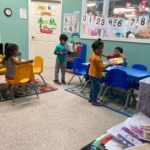 We also learned about the days of the week, months of the year, and seasons of the year. We also talk about the weather, and learn to sing songs about the months, seasons, weather and funny and seasonal songs.  Circle time is a great warm-up to start our day. I look forward to working with your child this year and having many wonderful learning experiences with them. If you have any questions about anything we are doing don't hesitate to ask me at school or send an email.  I will be sending home a form with your child for you to fill out with some general information, like your phone # and email.    I hope everyone has a wonderful Labor Day weekend.
Ms. Nancy
Lesson plan for July 2021:
Dear Parents,
Hope everyone is having a wonderful summer, We learned a lot of fun things this month. We finished our Fairytale unit  where we climbed a beanstalk with a character named Jack, where we learned about the setting of a story ,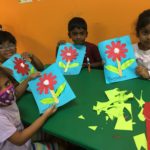 the characters, in a story,and the problem and solution to the story.We also did a stem project to build a castle for Jack and his mom, next we went to the farm, where we practice  writing our sight words, and the names of the farm animals, we also sorted farm animals and zoo animals.  We had a great time watching a virtual farm and watching them feed the animals, and listen to there animal sounds, we saw how they milk the goats and cows. We also watched a baby chick being hatched. We also practiced our counting skills.. 
Hope yall enjoy the rest of your summer.
Sincerely,
Ms. Nancy
Lesson plan for June 2021:
Dear Parents,
This month we worked on a theme unit the zoo. We learned about what animals live in the zoo. We also made pictures of zoo animals with the parquetry blocks. We also counted zoo animals and shared many books about the zoo.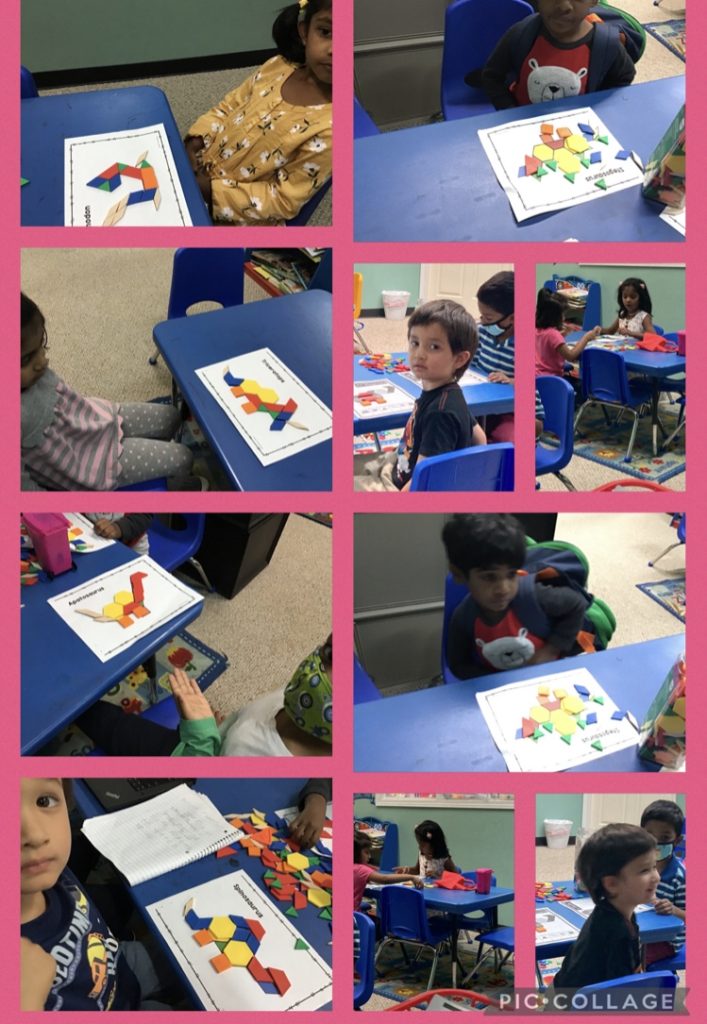 We talked about what jobs you can do at the zoo and being a zookeeper. We drew pictures about one job a zookeeper does such as feed the animals. We also started a unit on Fairytales, we have talked about and red Cinderella, and Goldilocks and the three bears. We reviewed our color recognition and story order, we answered questions about the story to help with our reading comprehension, we did counting and worked on patterns. I hope that everyone has a wonderful Fourth of July . Please continue sight words with your child if I have sent them home . If they know all the words in the set , let me know and I will get a new set for them to learn.
Thank you so much
Ms. Nancy
Lesson plan from 2020 November to 2021 May:
Dear Parents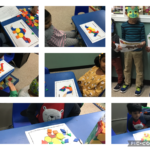 We had enjoyed our winter activity as much as we can. Learned many stories related to Christmas time and welcomed 2021 with great spirit.  We spent our spring by learning about different flowers and how to grow the flower plants. We enjoyed watering our flowering plants inside our classroom. Hopefully we will have more enjoyable summer.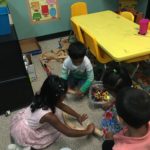 We learned about our calendar and days of the week and months of the year. We reviewed our alphabet, numbers to ten and our colors. We did a unit on the pond and learned all about the pond and animals that lived there then next we learned about the ocean and the animals that lived in the ocean we even painted some ocean pictures with watercolor paints. Next we went back in time to the land of the dinosaurs, where we learned about 6 types and we learned their names and whether they were plant or meat eaters. We also learned how to pronounce their names. And we used blocks to make dinosaur pictures and we even made fossils. I hope every one has a great month ahead with reunions and lots of summer fun
Ms. Nancy
2020 Lesson plan from February to October:
Hi,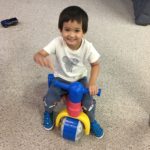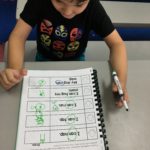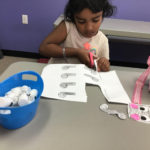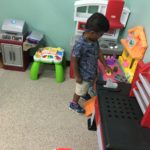 I hope that you all are doing good. It's the time for Holliday season. Our celebrations will be little different this year but safety is our priority under this pandemic. I hope that the kids enjoyed some candies during Halloween. We are very happy with our kids' progress. They are very independent to follow all the guidelines to keep them safe at school. At the same time they are achieving their academic success too. we will grow together in future too.
2020 January lesson plan for Pre – K:
Dear Parents,
Hope everyone had a wonderful holiday season. We are still working on our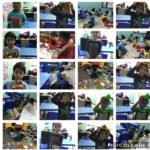 number and letter sounds, and color recognition. We have been learning about transportation and weather. We are learning a bunch of new silly songs. We enjoyed learning about penguins and made a fun craft to go with penguines.We have started learning about sight words and will be practicing them in class.
Looking forward to February and making Valentine's for sick children to be delivered to the area hospitals. The kids love playtime and building with the legos blocks. Hope everyone has a great month.
Ms. Nancy
2019 November and December lesson plan for Pre – K:
Hello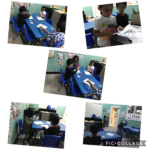 Hope everyone had a great Thanksgiving holiday. We have been working hard on our number and letter skills. We have been reviewing our days of the week months of the year our seasons, today, tomorrow and yesterday.and our silly songs. We are anxiously waiting for the arrival of Santa . Which a little elf told me he is coming December 14, 2019. We have been doing a lot of holiday fun things and crafts. We have also been reviewing writing our names please continue to practice with your child on writing his first name, especially on their homework papers. Please just another reminder to be speaking in English to your child it will help with their learning process.
December is a month of celebrations. We had so much fun on our Christmas party. We had played some Christmas game and had nice time with Santa.
Ms. Nancy
2019 October lesson plan for Pre-K:
Hello everyone, hope all is doing well and staying cool during this record breaking heat we are having. Fall is my favorite time of year now if the temperature would cooperate.We have been working on identifying our color words white – red. We are also sorting things by color and sizes, as well as learning to spell the color words.We are also working on our letter identification and letter formation.We are also learning our letter sounds and identifying Upper and Lowercase letters. Once in a while we have the opportunity to do some art. We made some apple trees with tissue paper. And we will have many opportunities to do some more art in October it is such a great month with a lot of exciting things coming up. Hope everyone has a pleasant and cooler month ahead. As soon as I get the book order in I will be sending the books home with those children who ordered and will be sending out the new book order for the next month. you can order off the website or you may fill out a paper order and turn it in to me with payment and I can fill out the order and turn it in on line. Thank you to all the parents who did order it is very much appreciated as it does help our classroom get free books . It's a great program
Again have a wonderful month .
Ms. Nancy
2019 Summer Lesson Plan for Pre-K: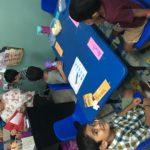 Dear Parents,
It's hard to believe that summer is nearly over. We were very busy in the Pre-K . We are learning to write our names, count to five, learn our ABC's, how to sit at circle time learn about the calendar, the weather, how many days in a week, the months of the year and our seasons and sing a lot of silly songs. We also have been learning to use our scissors. The kids are doing a great job on that.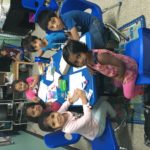 REMINDERS:
0. September 4, we are having soccer lessons.
0. Also remember to return your child's folder on Monday's and take out any graded papers return any homework they may have had in their folders.
0. Remember to speak in English when you are around your child it will make it a lot easier to learn the language, and understand what the teachers at the school are saying to your child.
0. No School Monday September 3, as we are closed for Labor Day.
I am looking forward to this new school year and excited to be working with your child. Hope everyone has a great long weekend !
Sincerely
Ms. Nancy
2019 March and April Lesson Plan for Pre-K:
Dear Parents
We have been busy practicing for graduation. We are all very excited for the big day! We also are still learning new things like how to determine how many syllables are in a word and how to identify rhyming words Our egg hunt was a huge success and everybody came home with lots of Easter eggs filled with goodies.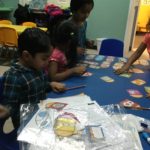 I hope everyone is enjoying the Spring weather. We are discovering in circle time things that happen during Spring, like it rains more, flowers start to bloom the weather gets warmer and we wear lighter clothing. And insects start showing up like ladybugs, and bees and caterpillars and butterflies.
Please continue practicing our graduation song with your child. If you have lost the words and link to the song on YouTube it is Patty Shukla's
I want to be a superhero when I grow upon YouTube. If you need the words please just let me know and I will get you a copy.
Thank you for your help.
2019 February Lesson Plan for Pre-K: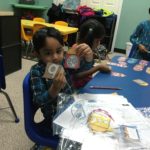 Dear Parents,
Hope everyone is feeling ok and has managed to escape the flu bug. Things are getting exciting in the pre-k classroom as we anxiously look forward to spring. We will be doing a special project in our class this spring, I Will be sending more about that later. We are still working on our alphabet sounds and are almost through the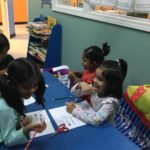 entire alphabet. In math we have been learning what number is 1 more and what number is 1 less. We are also learning to recognize the number words for each number. We will be focusing on 11-20 . Our circleTime is a lot of fun e focus on days of the week, the month of the year, the day of the week and the season and weather We sing lots of silly songs to help us remember all those things. I'm sure you've heard your child singing some of the songs. We have a great time at circle time. You will be receiving new words for the month of March please work with your child on these words. Everybody did a great job learning last month words, thank you for your help. Hope everyone has a wonderful spring and as always if you have any question or concerns please let me know.
2019 January Lesson Plan for Pre-K: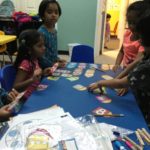 This month we have reviewed our counting skills and learned to do simple addition. We are still reviewing our alphabet letters and are learning our letter sounds. We are also learning to recognize our number words. We have done many activities with our number words such as count and clip and matching activities. We will have new vocabulary words this month please don't forget to review the words with your child. Hope everyone has a wonderful month ahead .Please let me know if you have any questions or concerns.
Ms.Nancy
2018 December Lesson plan for Pre-K:
Dear Parents,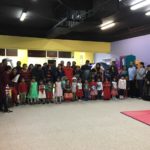 This is such an exciting time of the year with so many activities going on. I hope everyone enjoyed the special visit from Santa. The children did a great job on their song. In spite of all the holiday excitement we still did manage to get in some learning time. We are still learning to count to 10 and putting our numbers in the correct order, also we are learning our color words by doing color by number Christmas pictures. We are also beginning to learn beginning sounds of pictures an words.
I hope each and everyone of you has a wonderful holiday break and we will be pressing on to graduation when we get back from the holiday break. Just a reminder our holiday break starts Dec. 22, 2019- January 2nd 2019. Also parent teacher conferences will be January 18th from 5:00-7:00 p.m.
Merry Christmas and Happy Holidays
2018 October and November Lesson Plan for Pre-K: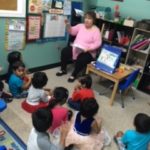 Dear Parents,
We have had a  great time learning spooky songs, songs about the weather, seasons, days of the week, and songs about turkeys and months.
We have worked on learning number order and writing our numbers to ten, we have also learned alphabetical order by  dot to dot and recognizing the alphabet.  We are learning to raise a quiet hand in circle time.  We are also writing our numbers to ten, and count to 20.  We are working on our November words in circle time as well as our alphabet sounds.
Just a reminder to please go over your children's work when they bring their Friday folders home.  They are proud of what they did in school for the week plus by going over their pages you can see what kind of progress they are making and where they are having trouble. When you have gone over their pages keep them at home and return the folder with their finished work.
Just a  reminder we are closed Thursday and Friday for Thanksgiving .  I hope everyone has a wonderful Thanksgiving holiday ..
Sincerely
Ms. Nancy
2018 August and September Lesson plan for Pre-K: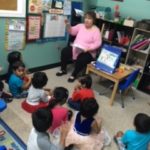 This month and since the beginning of the year we have been working on writing our names, our letters and our numbers. we also at circle time have been learning about the days of the week , months of the year, today, tomorrow, and yesterday, The weather, the seasons and our months we have also learned a lot of fun songs to sing during circle time. Thank you for giving me the privilege to teach your child. I hope they enjoy their day wit h me as much as I do with them. Next month hopefully we will get to do some exciting and. Halloween activities Have a great rest of the month
Your child's teacher
Ms. Nancy
2018 June and July Lesson plan for Pre -K:
We started a new school year. I am very happy to be your child's new teacher. We will be learning a lot of new things this year. We start our morning with Circle Time where we have been learning the days of the week, the months of the year , the seasons, and the weather. We have also been learning to cut on the line with scissors and use a glue stick. We are reviewing our letters and numbers also and learning our color words. It will be a fun and exciting year. I look forward to meeting and working with each one of you.
Ms. Nancy
2018 March lesson plan for pre-K: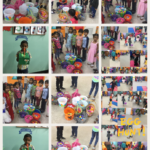 Dear Parents,
Even though it's getting closer and closer we are still learning.
We have continued to work on finding syllables in words and the kids are doing really well with it. We are also getting very good at using touch Math to add and subtract. We are counting backwards from ten and also skip counting by 5s. I am very proud of my class most of them are progressing very well. Thank you to all the parents who helped their child with the leprechaun traps they were very well done. We are practicing for graduation it's getting very exciting in our classroom. Thank you to all the support y'all have given me. Hope y'all have a great rest of the month. Everyone had a really great time at the egg hunt. The kids found lots of eggs with yummy  treats inside.
Ms. Nancy
2018 February lesson plan for pre-K: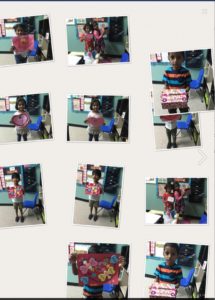 Hope everyone had a lovely Valentines DaY and a Great Presidents Day?
We had lots of fu this Month handing out and making Valentines. I also enjoyed the Valentines the children decorated as well as their boxes. They
Were all gorgeous. Thank you.for your participation.
LANGUAGE ARTS:
In language arts we continue to work on our vowel sounds and beginning sounds and our rhyming words.
MATH:
In math we are learning how to use touch Math dots to help us calculate our addition facts. We are also writing our numbers to 120.The children are doing a great job with this.
WRITING:
In writing we still are writing sentences and illustrate the sentence in our journals. I am trying to get Them to slow down and write neater, and to also remember to put their names on their paper. Some children are turning their numbers around like 21 for 12 or 31 for 13. So we are looking for that as well.
Important news: We have begun practicing our graduation song. I will be sending home the words and the YouTube link you can find it and watch how we will be practicing.
Please remember we are a nut free facility please do not send nut snacks with your child.that includes Peanut and jelly sandwiches. Also please remember to remind your child not to share their snacks as this could result in a child eating something they are allergic to and they could become very sick.
Hope everyone has a great month
2018 January lesson plan for Pre -K: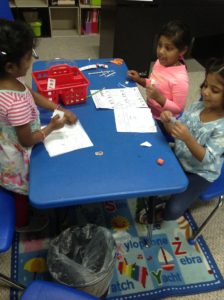 This month has been a cold start back to school from the holidays .
I hope everyone had a great winter break and enjoyed playing in the snow on our snow days. We have continued learning about vowels and adding and subtracting. We have been using our ten frames to help us with adding and subtracting. We learned that subtraction means it gets smaller and that we take something away and adding means to put things together. We have been able to read some of our worksheets ourselves (yay!!) we will continue to work on our reading skills. In February we will be working on story elements, which include the setting of a story, the characters in a story, the beginning of a story as well as the middle and the end of a story! The problem in the story, and the solution to the problem. To help with this as you read to your child, ask them about these story elements mentioned above and see if they can tell you them. This will help their comprehension and understanding of the story.
I hope everyone is doing well and has a wonderful February. Be on the lookout for a Family Valentines Day Project.
Thankyou all for your help and support.
Sincerely,
Ms. Nancy
2017 December lesson plan for Pre-K: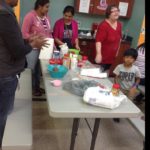 This month we have been busy working on vowel sounds and writing in our journals about winter activities. We have had fun making snowmen and drawing reindeers. We have been working on rhyming words and figuring out how many syllables a word has. We have learned some new December songs and how we know when it's winter. We continue working on our calendar deciding yesterday, today, and tomorrow. Our Christmas party was a lot of fun, the kids enjoyed playing "Santa Says" with Santa and listening to a story by the jolly old elf. I think moms and kids enjoyed making gingerbread houses I hope everyone has a great winter break and a wonderful New Year!
Ms. Nancy
2017 November lesson plan for Pre-K: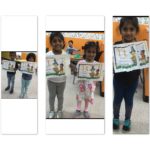 Because November is the time to be thankful I would like to tell y'all how thankful I am for you and.Your support. We had a Lot of fun with the turkey traps. Everyone did An outstanding job. I am sorry that some of you missed out on the opportunity to participate but no worries. Ms. Soma and I have discussed the matter and to make sure that all my parents receive the activities we are going to start emailing them so be watching for the next activity it's coming soon. This month we have worked on vowel sounds I'm sure you have heard your children singing the silly songs we have learned about vowel sounds. We have also learned how to write addition sentences and have talked about how to tell how many syllables are in word we are still working on this and will continue to work on this next month. We are still working on letter sounds and color words I hope everyone had a wonderful holiday. We will be having many things going on in December look for the emails about these special activities
Ms. Nancy
2017 October lesson plan for Pre – K:
We have had a really fun month learning about fall and singing fun fall songs during our circle time.
In reading we are learning how to recognize word families and identify rhyming words. In writing we are using our October words to write sentences in our journals. In math we are continuing to count and do one to one correspondence and adding two numbers and also we are working on greater than and less than, and equal. We also had our first annual spelling bee contest. We are very proud of all our participants.
Please remember to give the input on how you feel about the Homework calendar. Also remember to send your child's folder back to school. Keep the finished work and send back the homework on Fridays. Be sure to keep an eye out for our next big family night activity.
A big Thank you to all who helped and participated in our Halloween Hoopla, we really appreciate all your help. Hope everyone is doing well!!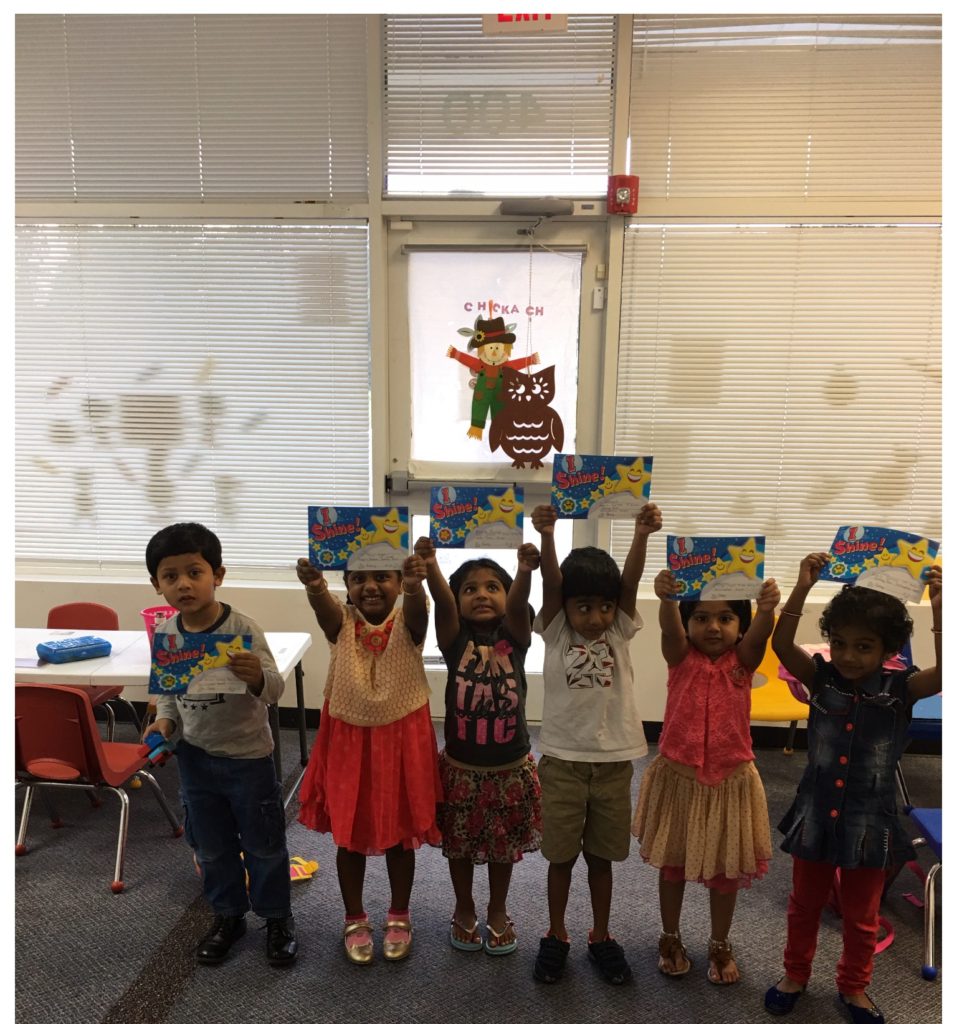 2017 September lesson plan for Pre-K:
This month we are working on rhyming words and we Retelling classic fairy tales .We have enjoyed art work for fall such as apple mosaics and making apple trees. We have talked about the way the seasons change and how to tell when it's fall.  The rest of the month we will be re telling our fairy tales.  Feel free to read any of them to your child at home.  Such as:  Little Red Riding Hood, The three bears, The Three Billy Goats Gruff, Jack and the Beanstalk, Cinderella, and many many more also feel free to read any traditional India fairy tales to your child. Having your child listen and retell or even memorize nursery rhymes help your child become a better reader because they develop an early sensitivity to the sounds of language.nursery rhymes naturally help young children develop for phonemic awareness skills which are necessary building blocks that children need understanding of before they can begin to read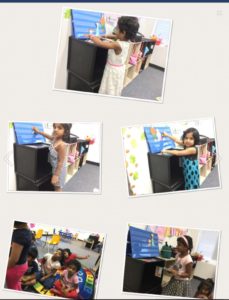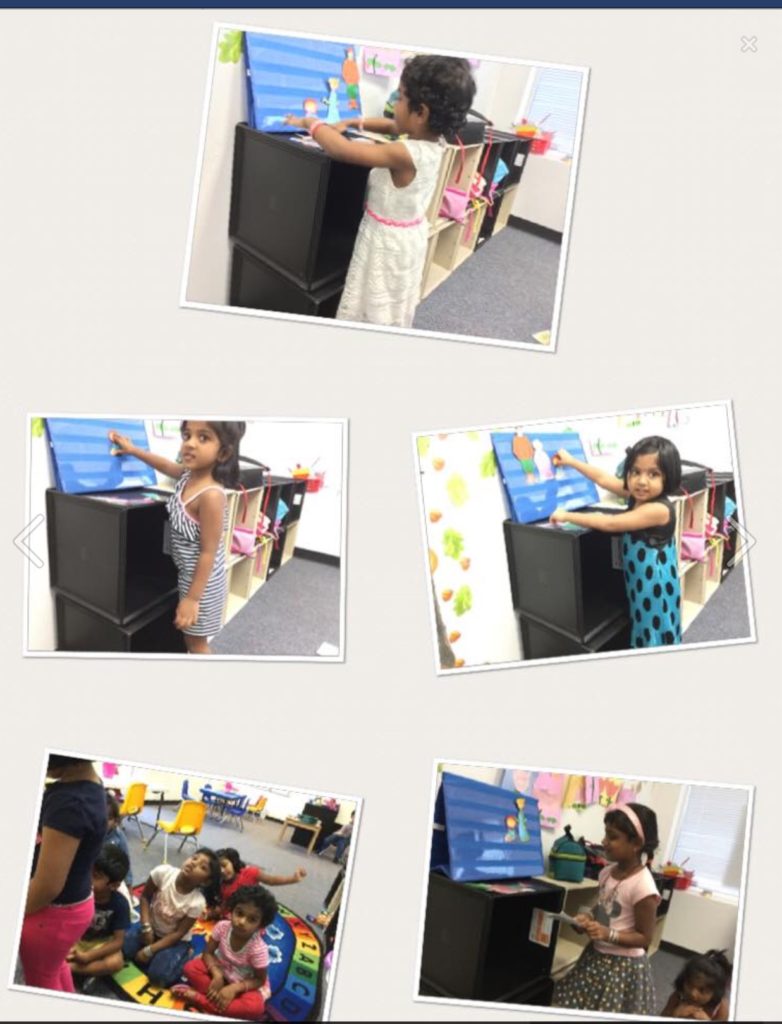 Please also to remember to go over the red September word list I have sent home.  If you need another copy please let me know.  We will be getting the orange list f or. October which I will be sending home.
Please remember when your child's.  finished work is sent home to take it out of the folder and keep it for yourselfSend the folder back on Monday with the completed homework in it.  I will send folders home on Mondays with homework.  Then send the folder back on Friday with completed homework.  Then I will send new homework and finished papers.
October will be a fun month filled with ghosts, and jack-o-lanterns and trick or treats and DONT FORGET WE WILL BE HAVING A FAMILY HALLOWEEN NIGHT That will be lots of fun, with a  costume contest, pumpkin decorating contest, games, candy, and tons of fun.  More information will be sent as we get closer to 
October 28, 2017
.
Don't for get about our fundraiser, through the catalogs that were sent  home just follow the directions on the link . If you have any questions just let us know or you can call the company with the phone number listed on the website and they should be able to help.
Hope everyone has a great rest of the month. Thank you for the privilege of working with your child .
2017 August lesson plan for Pre-K:
We are at the end of August. We started working with beginning sounds. In the circle time we worked on days of the week and sight words for the months of the year. We also started working on before and after numbers, matching upper case letters with the lower case letters and  also worked with numbers order.
We were very excited to work on identifying what belongs to what, identifying colors and counting till number 41. Pre- K classroom is waiting for many more new activities in the coming month.
May 2015: Lesson Plans for Pre-K >
In Pre-K classroom, Angelz Funtime focuses on 4-5 letters or words as well as a math topic.