2018 January lesson plan for Pre -K: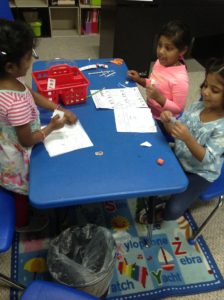 This month has been a cold start back to school from the holidays .
I hope everyone had a great winter break and enjoyed playing in the snow on our snow days. We have continued learning about vowels and adding and subtracting. We have been using our ten frames to help us with adding and subtracting. We learned that subtraction means it gets smaller and that we take something away and adding means to put things together. We have been able to read some of our worksheets ourselves (yay!!) we will continue to work on our reading skills. In February we will be working on story elements, which include the setting of a story, the characters in a story, the beginning of a story as well as the middle and the end of a story! The problem in the story, and the solution to the problem. To help with this as you read to your child, ask them about these story elements mentioned above and see if they can tell you them. This will help their comprehension and understanding of the story.
I hope everyone is doing well and has a wonderful February. Be on the lookout for a Family Valentines Day Project.
Thankyou all for your help and support.
Sincerely,
Ms. Nancy
2017 December lesson plan for Pre-K: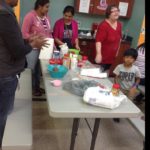 This month we have been busy working on vowel sounds and writing in our journals about winter activities. We have had fun making snowmen and drawing reindeers. We have been working on rhyming words and figuring out how many syllables a word has. We have learned some new December songs and how we know when it's winter. We continue working on our calendar deciding yesterday, today, and tomorrow. Our Christmas party was a lot of fun, the kids enjoyed playing "Santa Says" with Santa and listening to a story by the jolly old elf. I think moms and kids enjoyed making gingerbread houses I hope everyone has a great winter break and a wonderful New Year!
Ms. Nancy
2017 November lesson plan for Pre-K: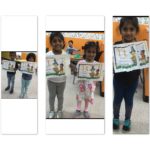 Because November is the time to be thankful I would like to tell y'all how thankful I am for you and.Your support. We had a Lot of fun with the turkey traps. Everyone did An outstanding job. I am sorry that some of you missed out on the opportunity to participate but no worries. Ms. Soma and I have discussed the matter and to make sure that all my parents receive the activities we are going to start emailing them so be watching for the next activity it's coming soon. This month we have worked on vowel sounds I'm sure you have heard your children singing the silly songs we have learned about vowel sounds. We have also learned how to write addition sentences and have talked about how to tell how many syllables are in word we are still working on this and will continue to work on this next month. We are still working on letter sounds and color words I hope everyone had a wonderful holiday. We will be having many things going on in December look for the emails about these special activities
Ms. Nancy
2017 October lesson plan for Pre – K:
We have had a really fun month learning about fall and singing fun fall songs during our circle time.
In reading we are learning how to recognize word families and identify rhyming words. In writing we are using our October words to write sentences in our journals. In math we are continuing to count and do one to one correspondence and adding two numbers and also we are working on greater than and less than, and equal. We also had our first annual spelling bee contest. We are very proud of all our participants.
Please remember to give the input on how you feel about the Homework calendar. Also remember to send your child's folder back to school. Keep the finished work and send back the homework on Fridays. Be sure to keep an eye out for our next big family night activity.
A big Thank you to all who helped and participated in our Halloween Hoopla, we really appreciate all your help. Hope everyone is doing well!!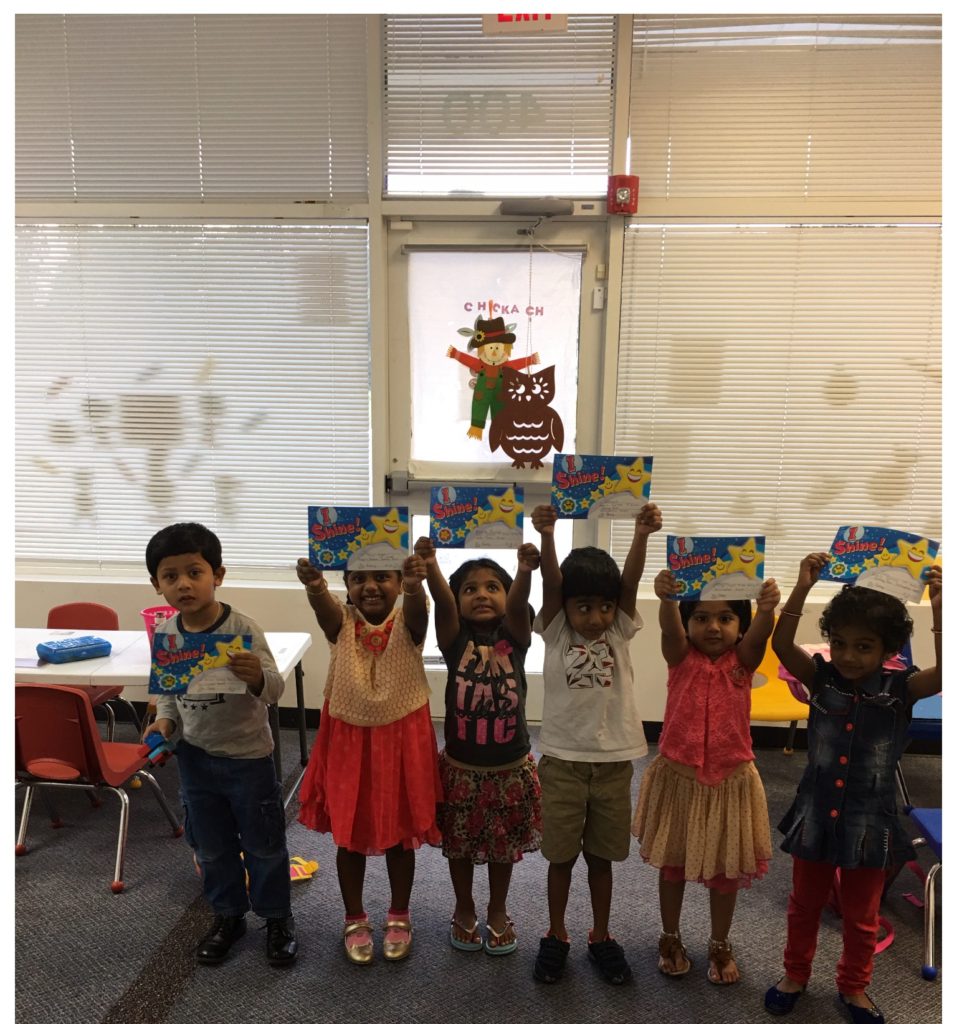 2017 September lesson plan for Pre-K:
This month we are working on rhyming words and we Retelling classic fairy tales .We have enjoyed art work for fall such as apple mosaics and making apple trees. We have talked about the way the seasons change and how to tell when it's fall.  The rest of the month we will be re telling our fairy tales.  Feel free to read any of them to your child at home.  Such as:  Little Red Riding Hood, The three bears, The Three Billy Goats Gruff, Jack and the Beanstalk, Cinderella, and many many more also feel free to read any traditional India fairy tales to your child. Having your child listen and retell or even memorize nursery rhymes help your child become a better reader because they develop an early sensitivity to the sounds of language.nursery rhymes naturally help young children develop for phonemic awareness skills which are necessary building blocks that children need understanding of before they can begin to read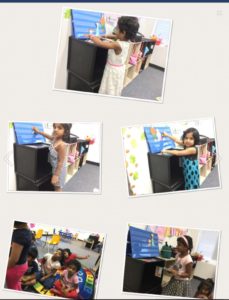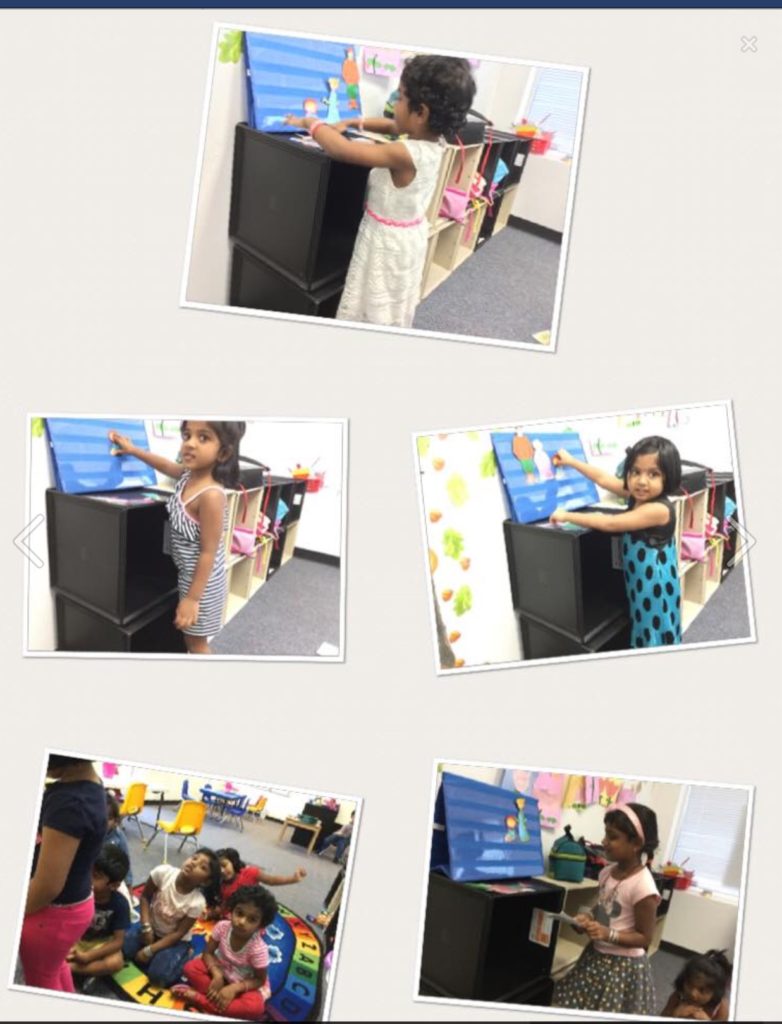 Please also to remember to go over the red September word list I have sent home.  If you need another copy please let me know.  We will be getting the orange list f or. October which I will be sending home.
Please remember when your child's.  finished work is sent home to take it out of the folder and keep it for yourselfSend the folder back on Monday with the completed homework in it.  I will send folders home on Mondays with homework.  Then send the folder back on Friday with completed homework.  Then I will send new homework and finished papers.
October will be a fun month filled with ghosts, and jack-o-lanterns and trick or treats and DONT FORGET WE WILL BE HAVING A FAMILY HALLOWEEN NIGHT That will be lots of fun, with a  costume contest, pumpkin decorating contest, games, candy, and tons of fun.  More information will be sent as we get closer to 
October 28, 2017
.
Don't for get about our fundraiser, through the catalogs that were sent  home just follow the directions on the link . If you have any questions just let us know or you can call the company with the phone number listed on the website and they should be able to help.
Hope everyone has a great rest of the month. Thank you for the privilege of working with your child .
2017 August lesson plan for Pre-K:
We are at the end of August. We started working with beginning sounds. In the circle time we worked on days of the week and sight words for the months of the year. We also started working on before and after numbers, matching upper case letters with the lower case letters and  also worked with numbers order.
We were very excited to work on identifying what belongs to what, identifying colors and counting till number 41. Pre- K classroom is waiting for many more new activities in the coming month.
May 2015: Lesson Plans for Pre-K >
In Pre-K classroom, Angelz Funtime focuses on 4-5 letters or words as well as a math topic.