Preschool Educational Programs:
The Sunrise of a Child in Education.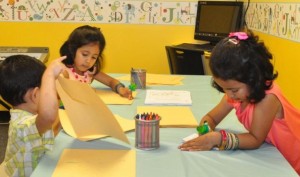 Angelz Funtime is an educational establishment offering preschool . Our educational programs have great success in preparing our children for public and private elementary schools when they enter kindergarten. Our curriculum places emphasis on phonics, math, arts and learning to read.
Our preschool programs are designed for 2 to 5 years old children. Our preschool students participate in small group reading, math and writing lessons to meet individual educational needs. During whole group time, children engage in storytelling, music and movements.
Our Educational Programs include:
Phonics
Beginning Reading Skills
Beginning Math Skills
Interaction Development
Coordination Skills
Music/Art
yoga
Age 2
Language Arts:
Recognition of name
Learning manners by saying 'thank you' , 'please', 'sorry'
Learning and recognizing the letters by tracing them.
Recognition of primary colors and shapes
Simple songs and finger plays
Numbers:
Simple counting 1-10
Introduction to recognize of numbers 1-10
Age 3
Level 1
Language Arts:
Recognition of name, sound and picture for consonants and short vowels
formation of letters in upper case
Develop listening skills through the story time and finger plays and songs
Recognition of primary colors, shapes
Numbers:
Simple counting 1-10
Recognition of  numbers 1-10
Introduction of counting objects 1-10
Age 3
Level 2
Language Arts:
Recognition of names, sound , picture for consonants and short vowels
Introduction of phonics
Answering the questions during story time
Recognition of colors, shapes.
Introduction of opposites
Numbers:
Simple counting 1 – 10
Recognition of numbers 1 – 10
Counting objects 1 – 10
Age 4
Language Arts:
Recognition of name, sound and pictures of long and short vowels and consonants
Phonic sound (A-Z)
Good manners and proper health habits
Writing Uppercase and lower case letters
Formation of different colors by blending two or more different colors.
Writing of first name
Numbers:
Number recognition and counting 1-20
Number concepts 1-20
Counting objects 1-10
Introduction to write number names ( like 1- one)
Pre-K
Language Arts:
Review of names and sounds of the letters, consonants, vowel blends and one and two vowel words
Reading simple sentences
Learning phonic  rules and spelling
Reading skills – Speed, comprehension and phrase reading
Writing:
Review of letters, blends, words and sentences
Writing of first and last name
Recognition and writing of sentences with capital letters and periods
Writing answer for simple sentences
Number:
Number recognition and counting 1- 20
Number concepts 1-20
Counting objects 1- 10
Writing number names 1-20