September 2017 lesson plan for Intermediates 2:
Welcome to the new school year! This should be a fun and exciting year and I am looking forward to working with you and your children. I will be sending folders home every Friday with your child's weekly work sheets and homework. Please work with your child on the skills on the worksheets and return folders on Monday.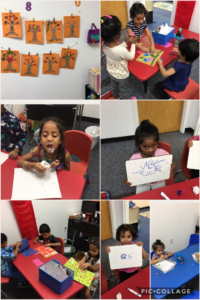 We have had a busy September thus far. My class has been working on their letters in preparation to writing their names. We will be using a new order for learning our letters and we are using dry erase boards to practice the alphabet and numbers which the students are really enjoying. Also we are working this month on the numbers 1-10 as a review.
October is quickly approaching and this month will be packed full of fun projects and events. I will continue my lesson plan working on the alphabet in readiness for my class to start writing their names. Also we will be doing art projects to celebrate the October holidays. Columbus Day is on the 9th and Halloween is on the 31st. We will be having a Halloween party on Saturday October 28th for all the students and families, which will be very spooked filled 👻and a lot of fun. More information will be available in the next week or so.
Again my class is very excited about the new school year and I am looking forward to the months ahead, watching your children grow, learn, and develop.
August 2017 Lesson Plan for Intermediates 2:
We did review the letters A-F and learned G,H,I and J. We also did focus on numbers 5-8 and learned to recognize the numerals as well as what quantity they represent. Everyday, We go over the calendar which helps to remember our months, days of the week, and counting. We have reserved time for blocks, puzzles, story – time and music to help foster the students' mental and physical development while encouraging and fostering their imagination and a sense of fun!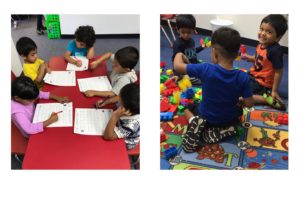 May 2015, Lesson Plans Intermediates 2 >
Ms. Vicki's Classroom