2019 Summer lesson Plan: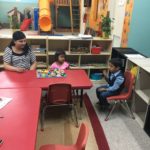 Summer started with the start of a new session so it is beginning of our lesson plan.So we started with alphabet A and completed till I .We started our numbers and we completed till 3.We read many stories every day kids really like story time where we get to sing song and dance at the same time.We reviewed our colors and shapes.We learned about animals in the summer time .So we will keep reviewing these things all throughout the summer.Summer is the best time we enjoyed very much and will keep this on fun whole through out the year.
2019 March and April Lesson Plan: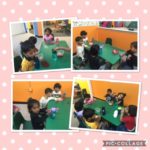 March and April is the month of spring with lot of festival.We covered our letters till Z.We revised our numbers,colors,shapes and body parts.In our story time we read many new books about spring.April we celebrated Easter .We had egg hunt in the school.Kids enjoyed so much and collected many eggs in this process.We revised many poems and kids loved 'wheels on the bus'.We learned about seasons ,months and days of the week.We did art project related to Easter .March and April went really fast we learned many things and will continue to do this coming months.
2019 February Lesson Plan: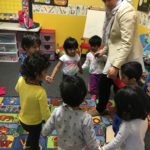 February was fun filled month.We did many  related to Valentine Day.In story time read many books.We did tracing related to alphabet .Our favorite poem if this month was "Daddy Finger"kids enjoyed the song was singing along with me.We did some new dance while learning about body parts.We revised our shapes ,colors ,numbers,alphabets.We learned about animals in our story time sessions.February went so fast with kids enjoying every bit of class.
2019 January Lesson Plan: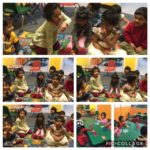 January is the month beginning new year.we started with alphabet tracing.We reviewed our number,colors and animals.we did crafts with our small stars hands so that parents have memories.We read stories and practice our poems and reviewed body parts.Our favorite poem this month is "5 little monkey jumping on the bed " kids love this poem and wanted me to repeat again and again in the story time.This month was full of singing and dancing hoping to continue this through next month also.Kids love singing and dancing.
2018 December lesson plan: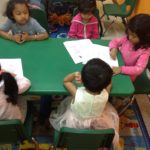 December is the month of celebration as it is Christmas month.We reviewed tracing of the lines.We reviewed alphabet,number and colors this month.We did craft related to Christmas.We as a class practiced Christmas song which we will be performing on Christmas party.This month is full of celebration we did lot of Christmas stories in our story time.We had so much fun this month.
2018 October and November Lesson Plan: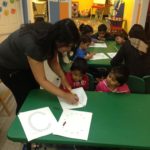 October and November is the months for reviewing what we did the whole semester .We studied about different types of animals and sounds they makes.We did tracing the different types of lines.We read about 5 little monkey's kids love the stories.We reviewed bout body parts.We reviewed alphabets ,numbers and colors these month.We  did art and craft related to animals ,birds.We covered Halloween and Thanksgiving in our art.We are having so much fun learning theses month so will keep doing that next month. Our kids also had a nice opportunity to watch some science experiments at our science night. Thank you all for coming and having fun with us!
2018 August and September Lesson Plan: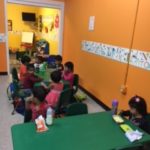 August and September
August and September we covered more tracing line for giving kids practice with pencils.We studied about food items.We did parts of the body in our circle time.We reading many new books too.we did art and craft like hand impression and alphabet .We reviewed our color and shapes too.We reviewed alphabet and letters.We as a classroom are having so much fun and will do more so in coming month .
2018 June and July lesson Plan: June is the month full of excitement .Kids explored many things which excited them towards the class like painting .We did hand impression which was loved by kids.We covered tracing lines this month .Which will help kids writing in coming month.We did reading and poems in our circle time which kids enjoy and we will continue more in coming month. July July is the month of Independence Day so we celebrated with our kids.We covered more tracing line so that kids have more practice .We studied about animals so that kids known more about them.We covered colors and shapes in our reading time.We are having fun in our July month and will continue to do so next month .
2018 March lesson Plan: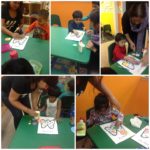 March is first month for spring but this month still gave us some chill days of month.Kids enjoyed many new books in our circle time like 5 little monkey's jumping on the bed.We covered shapes and colors in our circle time.we did art projects related to letters like E ,F,G,H.We are doing tracing E,F,G,H.We covered different shapes and color  in our circle time.We did art project related to words starting with E ,F ,G ,H..We are looking forward April and spring time learning new things.
2018 February Lesson Plan: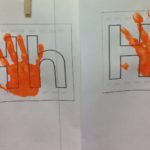 February was a very short month for us. It went by fast. In this month we worked on alphabet E,F,G and H. We learned some words along with those alphabet like egg, elephant, ear, flower, fish, fan, goat, girl, giraffe, house, hat, horse etc. We read couple of story books. Among them our kids favorite book was "That's not my tractor". We did some art work based on the alphabets and I am sure that you all love to see your kids' art work. They enjoyed our this month's music class. We are doing more coloring with this age group so that they improve their pencil grip which will help them do well while we work on the pre-writing skill.
2018 January lesson Plan: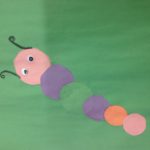 January went by really fast. We had couple of snow days. I hope that our kids enjoyed the snow by making their little snowman. We did some art work based on alphabet A, B, C and D in January. While working on art project, we are focusing on their eye- hand coordination skill. Our kids were introduced to some new rhymes. During our story time, we read "Toes, Ears, and Noes" and "The wheels on the Bus go round and round". We start counting the numbers till 5. We will keep continuing this in February too.
2017 December lesson plan: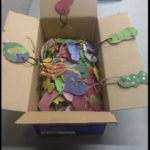 Happy New year to you All!! December was short month for us. We talked about winter season. We talked about the things which we need to keep us warm in this season. We did some art work related to winter season. We also sang "old Mac Donald had a farm", "Head shoulder knees and toes" , " one two three four five" song. We are also working on their following instruction skills. We made Christmas ornaments for the kids at UNC Hospital. We had a nice Christmas party. Santa played a game with all the kids. Kids were super excited to get gifts from Santa. We will have parent teacher conference on January 5th. See you then.
2017 November lesson Plan: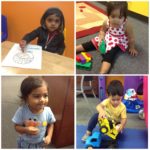 We are almost ready to step in to December. I hope that everyone had enjoyed the Thanksgiving holidays.  In November, we worked with number 3, 4 and alphabet A. In our group circle time, we talked about the weather and read some story books.  We did work with the color red and yellow. Beginners did some art work for veteran's day and thanksgiving. They also colored the scarecrow and we talked about it in our group circle time too. In the morning everyday we sang 'ABC song', 'wheels on the bus' and ' head shoulder knees and toes'.
2017 October lesson plan: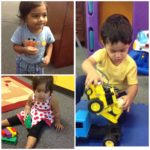 October was a fun month for Beginners. Our main focus was to improve their communication skills. We talked about fall season in our classroom. We showed them different colored fall leaf. We also talked about some animals like dog, cat etc. We sang "ABC song" to know about the alphabets. We also sang " mommy finger, Daddy finger", " five little monkeys" in this month. They had some art work and coloring sheets to improve their fine motor skills. We had our big Halloween night on November 28th. Thanks everyone for taking part in it and making this event successful.   2017
September lesson plan: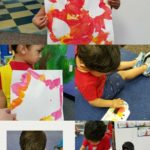 September was a busy month for our classroom. In this month we worked with identifying the numbers 1 and 2 and tries to color the picture of them. We also worked on "days of the week" in our everyday morning group circle. We learned our body parts (head, eyes, nose, lips, legs etc.) in September. We request you to revise those with your kids at home. Our kids enjoyed singing "twinkle twinkle little star" and "head shoulder knees and toes". We worked with fall colors while doing our art project. Art projects always help them to improve their fine motor skill. In our story time we read story books. While reading "I can Snap", our sweet little kids practiced how to snap Daddy's sleeve. We will keep working on this kind of skill in October too.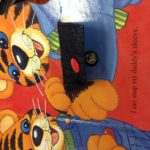 Angelz Funtime will have a Halloween party on October 28th. You will receive the update soon.
2017 August lesson plan: We have had a busy month filled with coloring and crafts and songs but as August has come to a close we will begin our new school year. I have some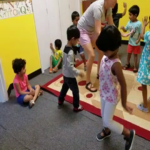 fun activities for your children. I can not wait to share them with students. We will begin using a journal. You will see them come home some Fridays and I ask that you return them on your child's first day back to school the following week. I hope you enjoy seeing your child's work as much as I enjoy helping them with it.
March 2015. Half to 3 year old Lesson Plans for beginners > by Krista Caserta